Cascade Canoe Club
Winter 2006 Newsletter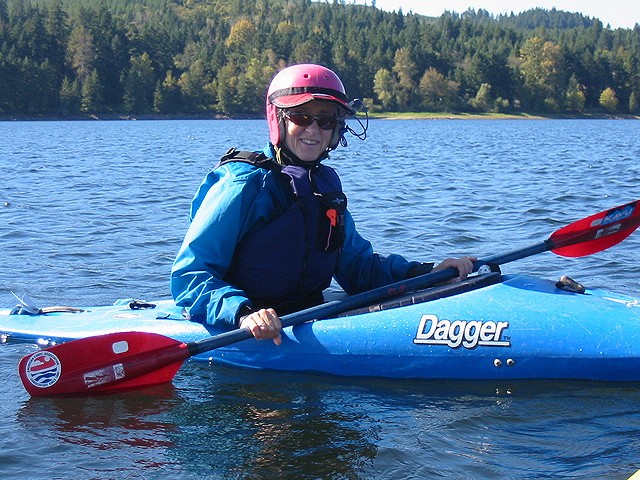 Mari on Cottage Grove Lake Ė Sept. 2005 -- photo by Victoria Biedron
Victoria likes to share other photos from that trip posted to the picture bucket -- (see those starting with CottageGroveLake_)
FEBRUARY MEETING
Tuesday Feb. 7, 2006, 7-9pm, South Eugene High Rm 203 (note, not 202).
The John Day River -- from South Fork to North Fork Slide presentation by Horst Lueck
Horst ran this 28 mile stretch of Oregon's longest free-flowing river in the Spring of 2005 in a Lynx IK.
The run goes through a spectacular section of the John Day Fossil Beds National Monument.
This stretch has not been documented in any public river guide, so Horst will bring maps and answer question regarding river access and logistics. Rating class 2+ / 3 (depending on water level).
If time allows we'll show slides from Cascades lakes and other fun places to paddle
Welcome new members
Paul N. (kayak and IK); Paul joined late Summer after being probably the most active member of the 2005 McKenzie crowd. There is a good chance you may see him on the river several times a week. He lives near Marist rapids, and welcomes paddling partners.
Dues are due !
This is a reminder that all membership fees are due on an annual basis. So, we will be glad to collect at the next meeting, or you can download the form ('Save to Disk' may work better than opening in browser). The return postal address is printed on the form.
Our membership fees help support and pay for booth fees, meeting room rental, equipment, web page and email list hosting, and other expenses at club meetings. The fees are $10.00 individual and $15.00 family. New members who joined after 7/2005 enjoy an extended membership for 2006.
We appreciate your membership and staying current, thank you!
Eugene Celebration Booth
Thank you to all the volunteers who made the CCC booth a success last year!
We are looking into doing the Wildflower Festival at Mt. Pisgah Arboretum in mid May, any volunteers?
Paddling Lane County
Jim Hutchison's book "Paddling Lane County" is available from Omar at the price of $5.00 per copy.
This delightful little book, subtitled "24 easy routes for canoe or kayak" contains maps and description of the nicest flat-water and easy moving water trips in the county. OK, a few of the trips are not in Lane County but they're close enough to be included.
Call Omar at 342-1630 to order your copy.
(Note: due to high demand, the book is, again, temporarily out of print --so please allow for some time for delivery)
Camping in the Oregon Dunes National Rec. Area
For those of you who might be interested in canoe or backpack camping within the ODNRA, unrestricted camping is still available if you are outside of the areas open to motorized vehicle use. Thus, as long as you stay clear off the OHV (off highway vehicles) areas and the Snowy Plover closures, you can still camp over night in all other areas, including the Siltcoos, Tahkenitch, and Spinreel outlets, around Three Mile Lake, and on the Umpqua Spit.
- Clarence
SAFETY TIP
Donít attach your safety whistle, or any other item, to your life jacket zipper pull. If you swim in extremely turbulent water the force of the water could pull on the whistle and unzip your jacket, leaving you to drown. This happened more than once last year.
---
Trips and Events Calendar:
All Cascade Canoe Club trips are run as Common Adventure trip where all members of the trip share equally in the adventure. The trip initiator pays the same as everyone else and everyone shares in the responsibilities, chores, and decisions required to make the trip safe, fun and memorable.

Please contact the trip initiator before the trip to learn more about the trip to help you decide if your equipment and skill are suitable. All paddlers with sufficient skill are welcomed to join us. Only you can determine if you have the skill level to do the trip. If the trip announcement talks about ability to maneuver in a class two rapids, make sure you can do that before coming on the trip. The trip leader cannot decide for you. It is your responsibility to determine if the trip is right for you.

How do you build your skill level? Take classes or hire a private instructor. The River House, www.eugene-or.gov/rec/ offers a great program. Unless the CCC trip is listed as a skill builder, donít come unless you have the skills. Ask about a trip that fits your skill level.

Summer meetings:
1st Tue of the month, 6:30 pm at different places - bring your boat !
Non-members are welcome to join the monthly meeting as well as on day trips.
If you don't have a boat to bring to the monthly meeting contact us a few days earlier and we may be able to find a paddling partner with a boat for you.

More trips will be happening. Watch for their announcement on the CCC-list.
---
Trip Reports:
Hosmer Lake July 17-23 2005
Cheryl and I are definitely creatures of habit; every year when school ends and summer is about to begin we start to fill up the calendar with things we love to do. For the last dozen years or so, they have included the Ems baseball games, music in the park, and going to Hosmer Lake for a week.
Hosmer Lake attracts many different outdoor enthusiasts from birders to canoeists to fly fishermen. Our enjoyment is mostly with canoeing but the last few years we have brought our Audubon book and started to learn the names of the large variety of birds and ducks we spot. Iím not much of a fly fisherman but you see plenty of them in early June when the hatches begin and youíll have to weave through them in the canal trying not to disturb the brooks and Atlantic salmon. What we really love as ďthe hosĒ is the peacefulness of the area and visiting with Max and Nola, the camp hosts. And, of course, sitting around reading and taking walks.
If you have never been to Hosmer Lake, give it a try next summer; its on the Cascades Scenic Highway #46, between Bend and Highway #56.
- Robert

Christmas Eve Day Paddle
It was Christmas Eve, the weather was mild and dry, the temp was 56 dgr. and we went paddling on the canoe canal, and had a great time. It does not have to be summer to go out and have a good paddle!
- Mari and Victoria
---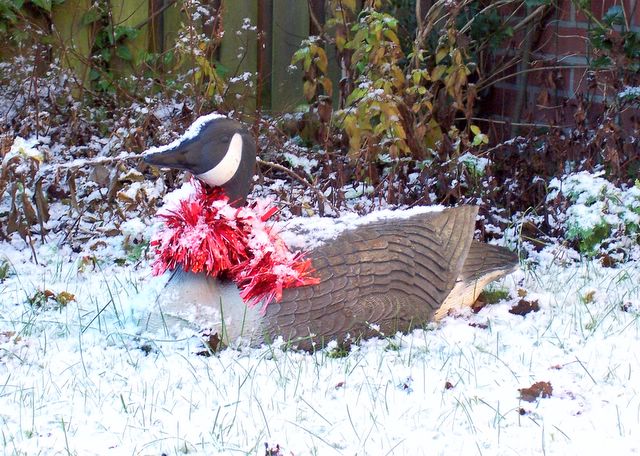 Belayed Seasons Greeting from Hamburg, Germany !
Huh -- what's that, a Canada Goose in Germany ???
Some of you may remember the March 2004 'Paddling in the Sand Trip' near Florence, organized by Clarence.
Those on the trip certainly will remember the Canada Goose Jeff adopted (or was it the other way around? :-)
At any rate, Jeff went to Portland, and the goose was up for exploring other parts of the world, so Horst gave her instruction how to follow Lewis&Clark's return path, walk across the Rockies, float down the Missouri, navigate the Golf of Mexico, then the Atlantic Ocean, and finally look up friends in Hamburg, Germany.
In Hamburg she found a good home with Juergen and Edeltraut .
Then followed a year of silence until we got the above Christmas card, showing Goose 'dressed' for the seasons, and it looks like, unlike traditional Christmas geese, she'll be enjoying her new place for many more seasons to come. (Note, a Christmas goose in Germany is about the equivalent of a Thanksgiving turkey in the US :-)
So, anyone up for another fun 'Paddling in the Sand' trip ???
There should be plenty of water this spring, and Clarence from Florence will be a good reference for up-to-date details.
So let's make plans !
- Horst
---
Many thanks to all who made this newsletter happen.
---