Winter 2004/05 Newsletter of the Cascade Canoe Club
Huh -- what is that about ??? -- photo by Horst
December 'Meeting' --better referred to as Potluck-- Report
Highlight of our December 'meeting' was Bob G e t t y 's 3-D slide show about a canoe trip he and his wife Jackie took some 30 years ago (Bob had organized polarizing 3-D glasses for the entire audience --see above). Thanks Bob -- it was great !
Many thanks also to Omar and Eliza who hosted the party, and to everyone who brought goodies. The food was excellent!!!
January Meeting Report
Thanks to Omar and Robert for their presentation on the Bowron Canoe Circuit in British Columbia. Several folks in the audience shared their experiences making an informative meeting.
We had a number of visitors who were informed by Oregon River Sports --Guy, thanks for making the connection!
Welcome new members:
Membership is based on calendar year. New members who joined after 7/2004 have extended membership for 2005.
Bob and Jackie officially joined.
Larry D. and Harris D. & Kelcie W-D joined at the February meeting.
Larry proudly announced to be the 'youngest' member at an 'age' of 17 minutes.
Events Calendar:
Toys R us.
Tuesday, March 1st, 7 pm, South Eugene High School, Rm 305 (not Rm 202)
While it's possible to muck about in a canoe with nothing more than a boat, some paddles and life jackets; canoeing can be much more comfortable and efficient using better gear. We will discuss types of boats, paddles, pfds as well as all the rest of the accessories that make canoeing more fun and safer. This should be a not to miss meeting for gear junkies.
I'm going to show and tell all my favorite stuff and am anxious to hear you tell me about things I can't possibly live without for another moment. This will be our finest moment of shameless consumerism. At least till now. --Omar


Safety -- Tuesday, April 5th, 7 pm, South Eugene High School, Rm 305 (not Rm 202)
We all know that wearing a pfd is important for our safety. Do you know that it is only one of the things that improve our chances of surviving a canoe trip? I'm bringing my full pile of water safety equipment for show and tell and will be sharing some of the knowledge I've accrued in my meager 15 years of paddling.
If you have a favorite safety item or tip bring it along to share at this lively interactive meeting. If we're lucky someone will bring homemade cookies. We all need know that boating without cookies is a sure recipe for disaster. --Omar
Future Trips:
Watch for their announcement on the CCC list and/or web site.

All Cascade canoe club trips are run as Common Adventure trips where all members of the trip share equally in the adventure. The trip initiator pays the same as everyone else and everyone shares in the responsibilities, chores, and decisions required to make the trip safe, fun and memorable

South Slough Guided Canoe Trips
The South Slough National Estuarine Research Reserve has set its activities calendar for Jan-May '05. There are 40 activities during the 5 months. Only four guided canoe trips are scheduled: Jan 29, Feb 26, Mar 12, and May 21. There is a $10 fee per boat to cover the naturalist and shuttle.
Registration is required for all activities.
Please call 541-888-5558 to register or to get information about a trip. www@southsloughestuary.org
(You could probably get on their mailing list and get the whole story on future activities.)--Phil
Trip Reports:
Willamette River at 8000 cfs through Eugene D-street to Beltline, Dec. 18, 2004

On a perfectly foggy Saturday noon five of us met to float the chocolate-brown Willamette through town:
Jon M. (Dagger C1 canoe!), Beth Sh., Mari and Dale (hardshell kayaks), Horst (IK). When the trip was announced two and a half days earlier the flow was around 16000 cfs which is in the peak range of a non-flood year. When we put in it had dropped 'down' to 8000 cfs, but was still moving fast.
The normally slow and lake-like sections (paddling mandatory) turned into a relaxing lean-back-and-watch-the-birds entertainment, as the river did all the work. We saw lots of Blue Herons and the congregation of Cormorants on a specific tree river-left just before Autzen footbridge (they seem to hang out there every Winter).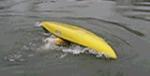 Many rapids were washed out, so *technically* speaking the river became easier. Most of us played it safe, only Jon's C1 was seen upside-down at several occasions.
The rescue was captured on video (1.8 MB download, some media player required).
After two hours on the water we arrived happily at Beltline -- but were also more than happy to get back into some dry clothes :-)
BTW, what's normally the gravel/pebble parking area at Beltline, had changed to the water covered foreground of the 'foggy photo' above.
- Horst
NB: The R-G reported the air temperature between 41 at noon and 43 at 3 PM -- Mari's comment: "It didn't feel that cold" The water temperature, in contrast, was listed by USGS between 49 and 50 F (9.5-10 C) -- should we have inner-tubed instead to stay warm???
Siuslaw River -Bender Landing to Florence
January 22, 2005
Three solo kayakers put on at Bender Landing on the North Fork of the Siuslaw in windless and rain-free weather. We paddled down stream (with the tide) to the main stem where a distinct current was flowing. The day was so wonderful that we continued past our takeout in Florence to the Coast Guard Station about one half mile north of Florence. The paddle back upstream to Florence gave us a good workout. Sharing this fabulous first-of-the-year trip: Clarence, Bob, and Mari
---
Interested in the Willamette River?
Find out about Willamette Riverkeeper & their River Guardian Program at their next training session:
River Guardian Training
Saturday February 26th, 9:30 to noon.
EWEB office, 500 E. 4th Ave., Eugene.

River Guardian volunteers learn to identify and respond to problems they encounter while monitoring an adopted stretch of river via canoe, kayak or walking trail. River Guardians create a network of individuals who are the true eyes, ears, and voice of the Willamette River. The training covers:
Overview of the Willamette River and Willamette Riverkeeper
Introduction to the River Guardian program
Volunteer options
Data collection methods
An interpretive walk along the river
Contact Amy to register at amy_AT_willamette-riverkeeper_DOT_org or 503-223-6418