Spring 2005 Newsletter of the Cascade Canoe Club
Welcome new members:
Kathy S. (tandem); Susan T. (Poke, canoe/kayak hybrid), Lyn D. (IK) and Nilfredo U. (no boat) joined us recently (listed in order of signup). Kathy, who came to the June meeting welcomes paddling partners in her boat. Lyn joined the Clarno to Cottonwood trip, see section trip reports.
Please note, current members received an April 2005 membership list and a new password to access the updated version on-line. If you are a 2005 member, but did not receive such a message, please contact the club at canoe@freeshell.org.
Paddling Lane County
I am pleased to announce that the new printing of Jim Hutchison's book "Paddling Lane County" is hot off the presses and is available from Omar at the preposterous price of $5.00 per copy.
This delightful little book, subtitled "24 easy routes for canoe or kayak" contains maps and description of the nicest flatwater and easy moving water trips in the county. OK, a few of the trips are not in Lane County but they're close enough to be included.
Jim did his research well and the descriptions include: Paddling distance, Time of year, Highlights, Access, Precautions, and a Discussion of the float. I've used the book to decide where I'd like to go when I've got a day or afternoon free for a trip.
Sometimes just randomly opening the book and reading the description will send me off exploring with a new perspective. See me on a trip or at the next meeting and I'll be happy to let you take home your very own copy of this good resource.
Omar
Trips and Events Calendar:
All Cascade Canoe Club trips are run as Common Adventure trip where all members of the trip share equally in the adventure. The trip initiator pays the same as everyone else and everyone shares in the responsibilities, chores, and decisions required to make the trip safe, fun and memorable. Please contact the trip initiator before the trip to learn more about the trip to help you decide if your equipment and skill are suitable.

Summer meetings: 1st Tue of the month, 6:30 pm at different places - bring your boat !
Non-members are welcome to join the monthly meeting as well as on day trips.
If you don't have a boat to bring to the monthly meeting contact us a few days earlier and we may be able to find a paddling partner with a boat for you.

Hosmer Lakes July 17-23 (Sun-Sat)
Hosmer Lake is located on Hwy 46 and is generally referred to as the Cascade Lakes Scenic Highway and can be accessed from Bend or at the other end on Hwy. 58. Cheryl and I have gone their for about a dozen years to paddle and relax...this year the dates are July 17-23 and we will probably be staying up at the Mallard Marsh CG which is the one that has the channel going out to the lake and not the one with the boat ramp...come join us! It is a great area for day hikes, paddles in Sparks, Elk, Lava Lks. or just lazing around with views of the South Sister, Broken Top.
We will post signs up on the bullentin boards as to our campsite
See ya at the put in................Robert and Cheryl

More trips will be happening. Watch for their announcement on the CCC-list.


The Willamette River Guardians has a new web address:
www.willamette-riverkeeper.org
Please contact them if you're looking for a volunteer opportunity. They train River Guardians to monitor stretches of the Willamette River. It's a great program and a great bunch of folks.
---
Trip Reports: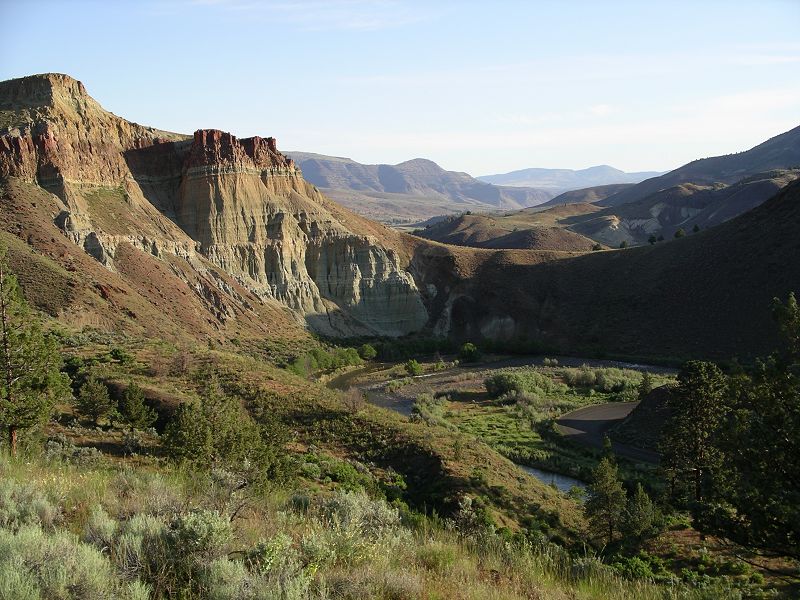 Catheral Rock, John Day River -- see South Fork to North Fork Report. -- photo by Horst Lueck
John Day trip - Clarno to Cottonwood - June 9-12, 2005 - 79 miles in 3 1/2 days
This trip was originally scheduled for mid-May because Mari and Lana were concerned there might not be enough water in June. WRONG! The level was flowing at 10,000 cfs, so Mari decided to do the easier Service Creek to Clarno section instead (see separate article below). On June 9, the rescheduled trip began at Clarno at 1,700, a much more manageable level!
The boaters were: Lyn, Richard, Bob, Lana, and Clarence. We left Eugene around 8:00 AM and were on the river at 3:00. When we got to Clarno Rapids (class 3), 4 of us decided to portage and after unloading one load of gear, Clarence decided to run it. It was a perfect run - he's an excellent boater! One thing that unnerved the rest of us was that a drift boat had capsized right below the rapid, turtled, so that only about 1 foot of its keel was visible. Shortly thereafter, the BLM ranger arrived in a raft and spent the next couple of hours setting up a Z drag and towing it out - it was good entertainment for the rest of us and we helped at the very end to bring the boat across the rocks.
On this trip we saw 2 coyotes, several eagles and osprey, 2 otters, some Native American pictographs, lots of blackbirds, and generally very beautiful scenery.
Clarence dropped some trip photos into the picture-bucket -- they all start with 'JD-CL_'
[Editor's note: As many of you know regulations require boaters to carry a portable toilet on multi day trips. Toilets must be watertight, washable, reusable, and portable. They can not use plastic bags or peat pot liners. Most rafters carry an ammo can. These are big and heavy and won't work for kayakers on a self-supported trip where space is at a premium. Commercial toilets of a size workable for kayaks aren't available. So kayakers have taken to building their own. Richard and Clarence built 3 different styles and the group on the Lower John Day trip tried them out. The description of the toilets and the group's evaluation are included on the write-up below.]
To see a full-size picture of the models discussed click on right image


We also spent A LOT of time talking about personal poopers!
The 3 personal poopers and the pros/cons thereof (from left to right):
The technique for all of them is to poop on a LARGE industrial size coffee filter (12") or paper towel and then put it in the container. Do NOT use newspaper; it breaks down too quickly and takes up too much room. Do NOT pack the load in; it makes it difficult to get out - you'll rip the paper and make a mess (been there; done that!)
Easter basket variety: has a handle for easy carry, but is transparent. Might think about spray painting it! Low cost: left-over Costco container or can buy it at Hirons for $1.59. If not full, should be fairly easy to dump, but cleaning it well would be a challenge. Probably not legal on some river trips because it doesn't have 2 openings. One option is to put the poop in a plastic zip-lock bag and then put it in the Easter basket. That works if there's just 1-2 bags. If you're on a longer trip, you'll spend some time dumping out plastic bags at the end.
White 3" PVC pipe: a similar model was featured on a boating web page. It costs about $15; all parts can be bought at a local hardware store. 3" is too small to get a big dump in/out easily. The advantage is that both ends screw in; the disadvantage is that in order to screw in, there are threads which catch fecal matter. And whatever you do, do NOT put Vaseline or some other product to make the seal tighter. It also catches whatever is coming by it thereby making this product difficult to clean.
Black 4" ABS pipe: the winner! It also costs approximately $15 and all parts can be bought at a local hardware store. The end caps are called "test caps"; the red ones are better than the orange ones. The big disadvantage is that you need a screw driver to loosen the metal clamp holding the lid to the cylinder before you can take the top off to bank your load; for some unknown reason, no one makes 4" screw tops. However, the flip side of this is that there are no threads to catch fecal material; the cap goes on the outside of the cylinder. It empties out much easier and cleaner than the product above.
Clarence is the creator of this model and is available for additional consultation -don't wait too long; as his personal pooper fame grows, his fee might increase.
- Lana
Upper John Day River--Service Creek to Clarno May 12-14
Distance: 47 miles
Water Level: 5500
Weather: partly cloudy, good temperature, light rain second night
Water color: cloudy, tan
Class: washed out class 2
We had a leisurely 3 days/2 night trip squeezed in between rainstorms. We camped the night before we put on at the Antelope RV Park in downtown Antelope. $10/tent. This is the town that the Rashneeshees took over in the 80's. The locals in the café didn't have much to say about it-best forgotten in their minds. The RV Park was grassy and shaded with a funky bathroom. The café served a good but slow breakfast. Gas was available at a price similar to Madres stations.
We used the BLM topo map "Lower John Day River Public Lands" published June 1991.
The river goes through a checkerboard of private/public land important when hiking and looking for a camp spot. We noted a public boat ramp at Cherry Creek (27 miles from Service Creek) that wasn't marked on the map.
We met two other parties on the river. They were both fishing and both spending 3 nights out. With the water level we encountered, this trip could be done with a little extra effort in one night but why rush. Doing it in 2 nights gave us some time for hiking but a third night would have allowed even more.
The river was beautiful with lots of rimrocks, expansive scenery and scattered ranches and farms. It may not be as grand as the lower stretch but still very nice.
- Mari
John Day River -- from South Fork to North Fork, May 26-27, 2005
RM 211.8 to 184.5 plus 0.7 mi on SF of JD (28 miles total)
Average gradient about 19 ft/mi
Estimated flow 800-1000 cfs -- 400 cfs at town of John Day (USGS 14038530)
This stretch goes from the town of Dayville to about Kimberly. To look it up you probably need a map as your favorite river guide won't have it covered. I'll write up a more detailed report at another time, so here are just some keywords, maybe followed by a slide show in winter if we manage to get a digital projector.
Class 2+ (maybe more at a higher flow). There are stretches with a lot of action, and a number of longer rapids that should be scouted. I scouted about a dozen times; some of this can be done from the road.
At the reported flow the river is fast all the time --no(!) pools. Drift time 5 mi/hr.
This stretch of the John Day has probably the highest concentration of spectacular rock formations: Picture Gorge, Cathedral Rock(see photo, taken above camp in the morning), Sheep Rock, Goose Rock, plus countless smaller ones w/o official name.
Downside: road is visible half of the time, plus ranch and farm activity at some areas.
Upside of the downside: on the same road you'll find the Thomas Condon Paleontology Center, and the historic James Cant Ranch House, both worth visiting. See http://www.nps.gov/joda/
To be continued...
- Horst
The Willie/Autzen Loop, June 12, 2005; 3000 cfs (TPW site)
It had been years that the club did 'The Loop'(*). We were lucky to catch a sunny Sunday afternoon among all those rainy days in June. The turnout was accordingly: 14 people in 8 boats; 5 tandem canoes (incl. Bob's old wooden canoe), 1 C1, 2 solo kayaks.
Cruising with a flotilla of such size through the duck pond on a busy Sunday afternoon, ducks and bread throwing duck feeders on the left --fishermen casting from the right was 'kind of exciting' --it could have been from one of those lighter scenes of Fellini film.
Despite 3 swimming events (involving 6 people) and 5 portage, everybody was a good sport and seemed to have had a good time (as one membership renewal indicated :-).
- Horst
(*) The Loop starts on the Canoe Canal, for instance at the Launch, #1 of map . Then goes up the canal to #5 , portage over to and down the Willamette, leave Willamette at #4 and proceed to put-in.
---
River Access Update
The latest seems to be that the bill(s) are doomed; the governor has stated publicly that he thinks it's a bad approach. In addition to being governor, Kulongoski sits on the Oregon Land Board which recently completed it's John Day navigability study declaring the river quite navigable. Being that SB-1028 was greatly inspired by Senator Ted Ferrioli's championing of his constituents along the John Day, much of the wind has be taken out of SB-1028's sails.
The very fact that SB-1028 has/had so much support in Salem despite virtually universal public rejection is baffling - until you look at it from their perspective. An opinion issued by the Oregon State Attorney General basically set things off:
"Even if the bed of a waterway is privately owned, the waterway may be used by the public for certain purposes if it meets the state test of navigable-for-public-use (the "public use doctrine.") A waterway is navigable-for-public-use if it has the capacity, in terms of length, width and depth, to enable boats to make successful progress through its waters. If a privately owned waterway meets this test, the lawful public uses generally include navigation, commerce or recreation. Recreation in this case includes use of small boats for pleasure and fishing, as well as swimming. The public may use the land adjacent to a waterway that is navigable-for-public use as long as the use of the adjacent land is "necessary" to the lawful use of the waterway."
This naturally riled up the Land Rights advocates. The State Land Board is looking at some very expensive navigability studies and Salem will probably get swamped with public-access fights, river by river - yikes right? Sort of explains why a seemingly liberal minded senator like Kate Brown would team up with the likes of Senator Ted Ferrioli: SB-1028 was/is an attempted end run around all the above.
It would be nice to see _all_ of the state's waterways declared on-par with the state's beaches, thus avoiding a mass diversion of tax dollars to the lawyers but that's not likely to happen soon. The passage of Measure 37 last November has given property rights advocates quite a bit of momentum - and maybe more importantly, money - so look for more nasty battles in Salem - and keep your paddle handy.
-Jeff

Refs:
http://statelands.dsl.state.or.us/whoownsthewaterways.htm
http://www.riverrights.org/cgi-bin/template.cgi
http://www.oregonriverrights.com/
http://www.leg.state.or.us/05reg/measures/sb1000.html
http://www.blueoregon.com/2005/05/newcomers_to_or.html
http://www.leg.state.or.us/brown/news.htm
http://www.capitalpress.info/main.asp?SectionID=67&SubSectionID=792&ArticleID=17524&TM=29397.56
http://www.americanwhitewater.org/archive/article/1320/
http://www.mailtribune.com/archive/2005/0615/local/stories/02local.htm

---
Many thanks to all who made this newsletter happen.
---