Fall 2004 Newsletter of the Cascade Canoe Club
A big thank you to all the volunteers who helped with the club's booth at the Eugene Celebration.
We had a great time talking to lots of folks and spreading the word of our great club. Wishes of windless, sunny days on beautiful lakes and rivers to Robert, Omar, Horst, Joan, Donna, Clarence, and Ellen. -Mari B.
((and many, many thanks to Mari who did a wonderful job coordinating the event, decorating the booth, and making our new CCC signs shown in the photo --this note sneaked in by the WebMeister post publication))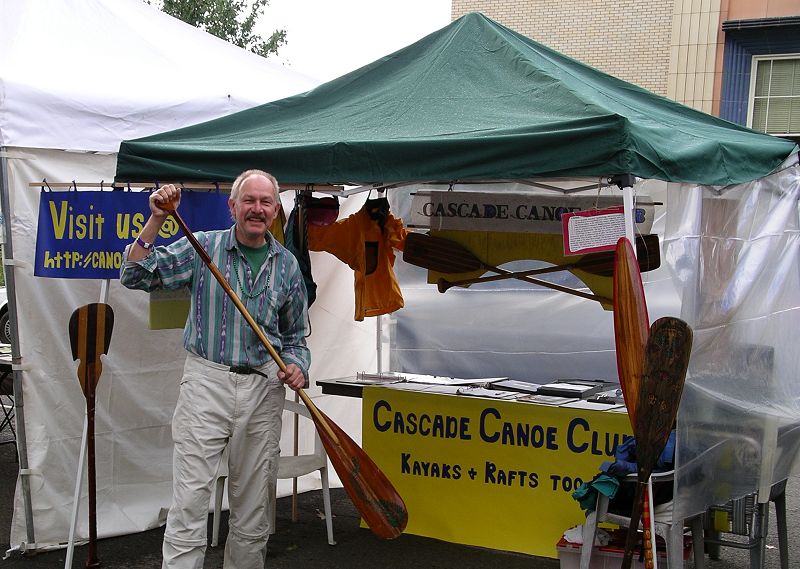 Horst at the CCC booth, practicing the

-- Photo by Joan.
Welcome new members:
Victoria B. returned to Eugene and (re)joined the CCC in November. She would like to share her (digital) photos from a sea kayaking trip in Canada, Sept 2004

Membership is based on calendar year. New members who joined after 7/2004 have extended membership for 2005.



Trips and Events Calendar:
December 7, (Tue) club meeting, potluck, and 3D slide show,
at Omar's, 3025 Harris, Eugene, starting around 6 pm .
Omar's house is 3 blocks east of 30th/Hilyard, on the Albertson's side.
Bring food and beverages, to share if you like.
Bob Getty will show 3D-slides from a Siuslaw canoe trip taken some 30 years ago.
Horst saw a preview and was fascinated by the 3D effect. Going back 30 years in time was both educational and entertaining. Bob will also bring his 3D-camera (Viewmaster system) to have a tech chat with other photography buffs. The slides are in 8 mm format, so don't expect the fine resolution of modern 35 mm technology.
Tentative schedule: starting around 7:30-8:00; duration 20+ minutes. 3D-glasses will be provided.
The 3D-glasses are a generous donation by the 3D Center in Portland.
ACKNOWLEDGEMENT:
The Cascade Canoe Club appreciates the generosity of the 3D Center for their donation of the 3D polarizing glasses used to view the projected images for this and further events.
The 3D Center is the only public museum/gallery in the USA dedicated to display contemporary and vintage 3D Stereoscopic imagery and equipment. It is a non-profit organization located in Portland, Oregon and is open to the public on Friday, Saturday and Sunday from 1-5 p.m., as well on the first Thursday and last Wednesday of every month from 6-9 p.m.
The 3D Center is located at 1928 NW Lovejoy Street, Portland, OR 97209. Phone: 503-227-6667 Web: www.3dcenter.us
Future Trips:
Watch for their announcement on the CCC list and/or web site.

All Cascade canoe club trips are run as Common Adventure trips where all members of the trip share equally in the adventure. The trip initiator pays the same as everyone else and everyone shares in the responsibilities, chores, and decisions required to make the trip safe, fun and memorable



Trip Reports:
Middle Fork of the Willamette
August 1, 2004
Lee and Rob were the only members to show up for the trip from Hills Crk dam to Black Canyon C.G. on Sunday Aug 1. Both of ran in solo canoes; Lee in the Rival and Rob in his recently acquired 14' Mohawk Probe.
The water was cold, being a bottom of dam release, and was running at 1447 cfs at the dam and 1946 cfs at Oakridge. We felt this to be a very comfortable level for canoes.
General impression: Lots and lots of brawny water. Fast flow and cold. Lee wished he had taken his hydroskin, esp. having to swim twice--once off a lost attempt to catch a boulder's eddy and once thrown by a huge diagonal roller coming off full current flow into a VW sized left-bank boulder. Rob handled both rescues well in spite of the swift current.
This is definitely not the typical western Cascade "pool/drop" stream so many of us are used to. This one is pretty relentless. At the lower end of the run, where the stream runs close to hwy 58 W. of Oakridge, there's a tendency of the stream to slow and calm a bit but there we had occasionally fierce headwinds.
All in all an exhilarating, mettle-testing class II++ run. Total time on river: 3 hours. -Lee P.


Rogue River Hogg Creek to Graves Creek section
Aug 22 & 23, 2004

And then there were 3

Fourteen boaters
Were supposed to come,
But due to the weather,
Six of them bombed.

The serious boaters
Braved the rain;
And were rewarded
With sun, instead of pain.

Five in a raft
and four in solo crafts
Rode the waves
With no upward wind drafts.

(In case you're wondering
Why the numbers don't add up,)
Two persons without reservations
Unexpectedly showed up.

Back at camp,
Entertainment followed repast,
Glen sang ballads
And remembered the past.

Then two persons
Left with the raft,
Leaving four boaters
Without a craft.

Three went home
And five stayed
"No rain tonight",
We all prayed.

And so it was,
On Monday morn,
We feasted on cookies,
Two were forlorn.

"No boating for me",
Said their backs;
And then there were 3
Kayaking to the max!

Participating in the strangest trip I've ever attempted to coordinate were: Clarence, Richard, Jeff, Donna, Ann Marie, Gary, Will, Glen, Dave, and Lana. It was a good exercise in flexibility and letting go! -Lana


TAHKENITCH LAKE
October 10, 2004

Sunday October 10th was a beautiful fall day on the Coast. Clarence L. and Steve B. of Salem paddled the east side of Tahkenitch Lake - 3+ miles down the Fivemile Arm, 2 miles south in the main Lake, and 2 miles back up the Mallard Arm. The Arms have lots of aquatic vegetation, but there is a clear boat channel throughout. There were moderate waves in the main Lake, but the wind was pretty much at our backs.

We made two interesting observations on this trip:
-- There are a number of floating vegetation mat "islands" in the Fivemile Arm, some of which are fairly solid even carrying some small stunted spruce trees. We landed on one for lunch, and were surprised to find that it's cover included many of the fairly rare insect-eating "cobra lily" plants (Darlingtonia).
-- Later, we passed under a long railroad trestle near the Fivemile Arm and noted that it was built with one section which at an earlier time was able to swing open. We guessed that this feature was probably used years ago to allow passage of tugboats pulling log booms down the Lake.

Overall, it was a very enjoyable day on the water! -Clarence


Duncan Inlet Siuslaw River
October 24, 2004

This trip was originally scheduled for Waldo Lake but because of cold weather (34 degrees and rain at Willamette Pass) we decided to boat at the coast. We put in at the Tiernan Boat Landing about 5 miles west of Mapleton, paddled down Duncan Inlet and took out in Cushman, 2 miles east of Florence at the Siuslaw Marina. A nice paddle that maximized nature and avoided most of the highway noise.

A couple of us continued on and explored Cox Island. We stopped at the house and at the northeast corner of the island to check out the grassland.

This trip was shared by Mari, Clarence, Dave, Beth and 2 fine folks from Florence. -Mari
Photos from this trip start with DuncanInlet -- picture credit to Dave Becker


Letter from Carolyn and Ken
Long-time club members Ken and Carolyn W. left Eugene to set up base camp for CCC'ers who plan on sea kayaking in the Puget Sound (wink, wink :-) Here is Carolyn's first report; she also added some photos from the construction site; look for photos starting with Orcas_KenCarolyn
Date: Sun, 24 Oct 2004 20:41:26 -0700

Dear Friends and Family,
Some of you have asked to see some pictures and know how we are progressing in our house building adventure on Orcas Island...
Four and a half months ago we came to the island after selling our house in Eugene and began with four stakes in the ground. Even though we have a long way to go, we are getting ready now to pour the foundation and a lot has happened in between. We had to clear the site and take down many trees. During that time we were camped on another section of our eight acres. We had almost decided to rent a house for the year but when this great deal, used trailer came up we decided that this would be the best way to work on the house and get to know this land. I never dreamed I would ever live in a trailer but I did want to simplify my life! More on trailer life later.
Ken has done some excellent work installing the electrical to the site and meticulously getting the foundation right. I now know firsthand what "working in the ditch" means as well as "clearing the land". I am also relearning the meaning of the word 'patience' and the concept 'go with the flow'. Island time is slower than mainland time. My main job has been to assist Ken, do the domestic back up work and get rid of the prolific scotch broom. I am working with the land to weave a new pattern and to connect the surrounds together. We are building on a south-facing slope and wanted a lot of sun exposure in this northwest climate that can get gray.
On a sunny day this land is so beautiful; and at night the start are bright and lovely. It is also very quiet with the birds and the tree frogs and the deer and the bunny rabbits keeping us company. We are both enjoying improved health and Chris is loving every moment of living on the beach and going to school in Sydney, Australia this term.

Blessings. Carolyn



Invitation:
Altair Ski and Sports Club has invited members of the Cascade Canoe Club to join their Holiday Dinner Dance at the Altair price (no guest fee) of $35. This is a formal event with a catered dinner and live dance music being held Dec. 18.
For more information check out their web page altairsports dot org. Click on calendar.
Contact for this event is Elizabeth, Altair's president.


A few words about email:
a) Club email: all club and boating related email should be addressed to canoe@freeshell.org -- not to Horst's old, or personal email address. (Horst's old account on efn.org is defunct, and a few messages have been already lost.)
b) CCC-list@efn.org is our email broadcast list.
c) Newsletter: trip reports, announcements, etc. send to Mari (editor). If you like to see announcements or photos also posted on our web site send a copy to the club address too.