Summer 2004 Newsletter of the Cascade Canoe Club
Thanks to Jeff for a wonderful job as Cascade Canoe Club newsletter editor. He has left huge shoes to fill.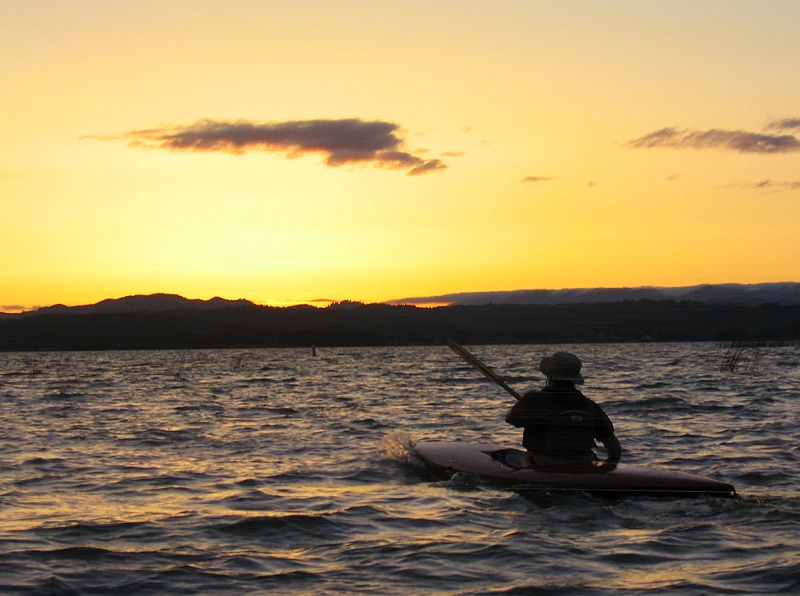 [ Jeff (above) last seen at a club meeting at Fern Ridge -- he then pointed his "Orange Torpedo" North and paddled up to Portland -- photo by Horst]
Call for volunteers
The Eugene Celebration is fast approaching--Sept 18 & 19. The Cascade Canoe Club is staffing a booth again this year and we need volunteers. There's something for everyone.

First up is booth sitting. We'll break up the days into 2-hour shifts--Saturday from 11:00 a.m. to 7:00 p.m. and Sunday from 11:00 a.m. to 5:00 p.m. It's great fun sharing our love of local waterways with passersby.

Also needed are folks to help with set up Saturday morning and take down Sunday afternoon.

And there's still more opportunity--some of our displays need sprucing up and expanding. Are there folks who are interested in working on a more creative project?
We're also looking for trip initiators to organize trips in the weeks after the Eugene Celebration. Easy, fun trips where we can meet the new members.
Thanks to everyone who's helped in past years. The Eugene Celebration is the clubs biggest public event--and membership building event.

===> Latest EC2004 Booth Schedule <===

Join up and let's go have fun!! - Mari (email: marib AT efn.org)
Trips and Events Calendar
More trips will be happening. Watch for their announcement on the CCC list.
All Cascade canoe club trips are run as Common Adventure trips where all members of the trip share equally in the adventure. The trip initiator pays the same as everyone else and everyone shares in the responsibilities, chores, and decisions required to make the trip safe, fun and memorable.
September 7 (Tue) 6:30pm, Cascade Canoe club meeting.
Alton Baker park under or near one of the shelters(
pink(2) on map
). Final preparations will be made for the booth at the Eugene Celebration. If you're interested in boating on the canal after the meeting (probably in the dark) let Mari know (email: marib AT efn.org)
September 18 & 19 (Sat/Sun)
Eugene Celebration. Volunteer at the club's booth!! No club trips scheduled this weekend.
September 26 (Sun):
mild whitewater trip on the Sunday after the Eugene Celebration. This is a chance to meet our new members. initiated by Horst ( canoe@freeshell.org )
September:
possible Deschutes trip. We'll post to the list if this trip gets going.
Oct 9/10 (Sat/Sun) trip to coast lake or creek. Oct 9/10 trip to Coast initiated by Clarence (
lysdale AT presys.com) ). This will be an overnight camp if the weather looks good or a one day if it
doesn't. Possible destinations are Tahkenitch Lake or Siltcoos Lake, with either the Siltcoos River Trail or the North Fork Siuslaw River as a wind-protected backup.
Used boat/equipment pages and swap meets
Ever wonder where to buy a used boat? Here's a list of web pages that list classified ads for free and a list of local swap meets. If you know of others let us know. Horst has added this list to the club's web page.
http://canoe.freeshell.org/ccc_links.shtml#UsedGear
Web pages:
Equipment swaps:
University of Oregon Outdoor Program has a used equipment swap every October that is a great chance to sell your old gear and of course buy some more. They hold another one in the spring.
Alder Creek in Portland and Bend has a swap over Labor Day weekend. Call for details. 503-285-0464.
Oregon River Sports in Eugene had an equipment swap earlier this summer. 334-0696
Peak Sports in Corvallis has a boat swap October 2&3. If you're selling a boat you need to take it in on Friday the day before. Call them for details. 541-754-6444
Newsletter Editor needed.
The cascade canoe club needs a newsletter editor. Right now the thought is to have a quarterly newsletter rather than monthly so it would take quite as much time. If you have any interest, please step forward and volunteer. - Mari
Trip Write-ups
KLAMATH RIVER, Weekend of June 11, 12, &13
A multi-day campout with multiple runs on the Klamath River just across the border in California was organized by Lee and Ellen P. over the extended weekend of June 11th through 13th.
Lee and Ellen were joined Thursday evening by Rob S., Clarence L., and Phil and daughter Sonja B. plus Blue, the (somewhat reluctant) canoe dog. Lee and Ellen's son Linus arrived later as did Lana L. with Richard H. Lance and Diane from Corvallis plus a couple from central CA (long-term friends) joined some of the runs.
We camped at the "Tree of Heaven" campground off highway 96 about 8 miles west of the Collier rest stop on I-5. It was clean and well maintained, with running water and campfire wood available. The weather was great throughout our stay.
Since the only kayaks were one hard-shell and several IK's, this was one Cascade CANOE Club event which was dominated by canoes!
Over the period from Friday morning through Sunday afternoon, we made runs with some repeats from Collier at I-5 to the campground (about 8 miles), from the campground downriver to an improved takeout below Lumgrey Creek (about 7 miles), and from Lumgrey Creek to the town of Klamath River (4 miles). The river is dam-controlled, and was at a very good level for all the runs. The gradient is fairly continuous with lots of riffles and Class 1-2 rapids to keep things interesting. Lance with wife and friends ran the upper section from Irongate Dam to I-5 and reported that it was relatively tame. Clarence L.
We encountered one solid Class 3 - the Schoolhouse Rapid - which is conveniently scouted from river right and can be easily portaged to avoid or re-run. It is a fairly clean drop followed by large standing waves (in use by whitewater playboaters). Some of our group successfully avoided the large waves, some took an exciting if unintentional ride directly through them, and there was one spill and swim - which served to check the (pleasant) water temperature. Richard took a number of good photos at this location which were made available on-line at OFOTO.com. We have purchased at least one set, if anyone would like to review same.
On Sunday some of us repeated the best run(s), then packed up and left for home -- tired but pleased after a most enjoyable outing. - Clarence
MID - McKenzie, Saturday July 10, 2004-------
two write-ups!!!
We received write-ups from two people. The first is written by Clarence. The second one by Horst.
On Saturday, July 11th, Horst L. led a very enjoyable classic McKenzie run from the McKenzie Bridge Campground to Finn Rock.
Horst in his IK and Clarence in his hardshell rec kayak were joined by Stephen from Salem (rec kayak) and Brooke with daughter Jill (whitewater kayaks). The latter three all came down from Corvallis.
The McKenzie was reported to be running about 2400 cfs at Vida, and provided plenty of thrills with standing wave action and rock eddy play spots throughout. The weather was great for a day on the river.
Lana had advised that the "S-curve" near the highway below Rainbow was probably the most significant challenge. There was also one serious play-hole being used by white-water performers and located about 2/3 of the way through the run on river right (Redsides?); it was wisely and easily avoided by all members of our group. Clarence L.
We did have a couple of spills, and lost one paddle -- fortunately Horst was carrying a backup paddle, which saved the day. As a long-shot chance, any readers of this newsletter are advised that it was an unmarked Werner kayak paddle with white blades -- please contact Horst or any CCC member if it is found. Incidentally, did you catch two important morals to this story?? (1) The trip leader should always be sure that there is at least one spare paddle on the run. (2) Each person's paddle should be identified by waterproof marker with a name and phone number. - Clarence
Upper McKenzie, McKenzie Bridge Campground to Finn Rock
Class 2++ CONTINUOS, 13.3 miles --see [1]
Sat. July 10 2004
Flow: 2000 cfs at USGS 14159110 --see [2]
This was a special trip for me as it was the last stretch of the 80+ boatable miles of the McKenzie I hadn't been on. As if they would have known, people joined from various parts of the state: Clarence from Florence, Stephen from Salem, and Brooke and Jill from Corvallis.
Soggy Sneaker rates the entire Paradise-Finn Rock stretch 2+, with the first section (above our put-in) being the hard part, and the rest having 'pool drop character'. In my opinion, this is misleading; except of the last couple miles it's more of 'drop drop' character, see [3]. The actual key term is *continuos* which means even a confident class 2 boater has a fair chance of flipping, either by law of statistics or just by getting worn out. To make a long story, two of us ended up U-boating with the wrong side up. Besides that everybody seemed to have a good time.
For most of it it's a fairly busy run, lots of fun, lots of action, a good number of big waves.
Brooke found much more surf spots than expected from reading the book. Even Clarence in his larger lake/sea kayak surfed a couple of times with a big smile on his face.
We had lunch on the tip of Dearborn Island, just past Rainbow; though if you go a bit further you may find some nicer spots with more space to walk around. Next time -:)
The South Fork, about half a mile below where the Blue River Lake Road meets Hwy 126, carried only 280 cfs; so that didn't make much of a difference. However, at other times of the year the South Fork can carry between 1000 and 2000 cfs --see [2]
[1] Length of run
Neither the topomap of the put-in, nor the one of the take-out show river miles. Through interpolation I determined the put-in at RM 67.3 and the take-out at RM 54.0, making the run about 13.3 miles long (RM = river mile). To split the distance between Olallie, RM 80.6 and Finn Rock, RM 54.0 evenly, the halfway point at McKenzie Bridge Campground makes sense, rather than having a fast 9 mi and a long 17 mi run. Also in terms of difficulty, the first section between Paradise and McKenzie Bridge Campground is more like the class 3 section from Olallie to Paradise.
[2] Flow
There are several gages that should be consulted. Go to
http://waterdata.usgs.gov/or/nwis/current?type=flow
and look for McKenzie. The two I quoted are:
USGS 14159110 McKenzie RIVER ABOVE SOUTH FORK, NEAR RAINBOW
USGS 14159500 SOUTH FORK McKenzie RIVER NEAR RAINBOW
[3] Pool and drop?
The overall gradient is 31 fpm (feet per mile), i.e. the first half is even steeper (the stretch above is 60 fpm). For comparison, Hendricks Bridge to Hayden Bridge drops 11 fpm and is also rated class 2 --but that, and our run are certainly not in the same category.

- Horst

MID - MCKENZIE, Thursday July 15, 2004
On Thursday, July 15th, Lana L. led another classic McKenzie run from Finn Rock to Helfrich Landing in beautiful on-the-water weather.
Lana and Rich were joined by Charlie, Lyn, Clarence, and two Rob's -- one with his son Brooke who was home on a visit from his activities in Taiwan. We had six IK's, one hardshell rec kayak, and Rob S. was in his new whitewater canoe.
This run put in where Horst's July 11th run took out -- the river was still in good form at about 2400 cfs, and the stretch had lots of action and fun spots. Lana advised in advance that Brown's Hole can be something of a trap, and several of us easily avoided it toward river right.
Near the end of the run, we beached just above Marten Rapids (Class 3), and were advised on what to expect and the best approach/line by Lana and Lyn. There is an option to take out and be picked up from the road just above this rapid, but we all chose to run it and did so without incident. A very EXCITING ride!! A pro photographer named Fred shoots most everyone who runs (or swims) past this spot, and proofs of his photos can be found on the web about a week later via Riverphoto.com. - Clarence
Rogue River -- Galice stretch
Another fabulous trip on the Rogue. Everyone but me met at Almeda campground Friday evening. Saturday the group of one solo canoe, 3 kayaks, and 3 IKs put on at Ennis Riffle. Lots and lots of other folks were also out enjoying the river reminding everyone that this is definitely not a wilderness experience. We had four swimmers in Galice shoot (class 2(?) and 2 pairs of lost prescription sun glasses. Bummer.
An hour later I met the group at the Galice boat ramp and down we went. We had lunch somewhere along the way. Horst and Lee jumped off the 20 foot cliff above Argo. Some sort of manhood thing I don't understand. One boat took out at Argo, the rest of us continued on to Graves Creek.
Saturday night there was a nice potluck and talk down by the river. Saturday night was the only quite night I've ever spent in Almeda Campground--what a pleasure.
Sunday we had a leisurely morning in camp and then repeated the same float. Hot weather, warm water, nice company--boating doesn't get any better than this.
Making this trip happen were Lee and Ellen, Bob H., Mari B., Horst L., Beth, Elizabeth, Melissa, and Stephen. -- Mari
For Sale
Canoes: I have to clean out the garage to make room for the next boat...

17" prospector - Glass and wood. $800
14" Jensen - solo. $250
Tandem "beach bike" - 5 speed. $150

Call Lance after 5. 541-752-1040

Inflatable Kayak: Aire Lynx I, red, foot pegs, thigh straps, $650. Contact Mari at (marib AT efn.org)